Stars Edge Redux
Valor Heavy Cruiser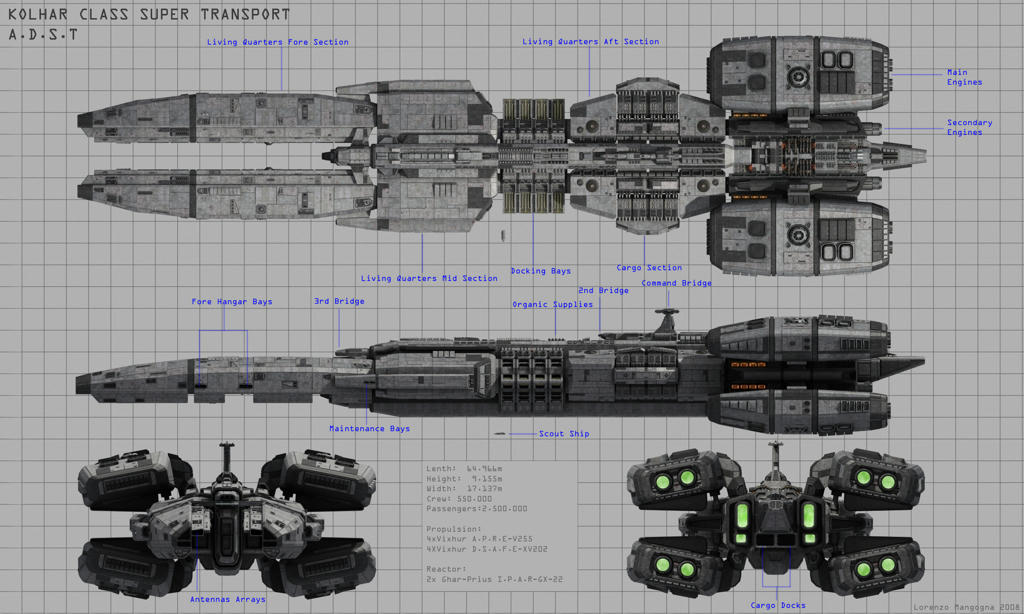 Classification: Heavy Cruiser (HCR)
Design Date: 2XXX
Date of Original Manufacture: 2XXX
Description
This is the first extra-solar FTL capable Cruiser design of humanity, meant to be the ship to act as the base for all future designs. It was designed in 2XXX after a series of test vessels for the FTL drives were created and tested. It was a radical redesign and the full scale test bed of many experimental technologies.
In design it's a roughly rectangular design with four engines in a 'X' pattern and 2 sweeping booms in the fore, with a command tower slightly more than half way back along the top. Two secondary bridges are mounted at strategic locations providing backup command functions. It mounts two lower output secondary engines in the main hull at the rear in case of lose of the main engines or need for more thrust.
Drives
Quad Experimental Fusion Drives for in-system movement and a FTL 1 Hyperdrive.
Weapons
It's main guns are dual massive particle guns mounted along the forward booms, this is followed by 20 missile batteries, and 40 railgun retractable turrets.
Smallcraft
It's fighter bays typically hold 2 Misquito fighters, 6 Eagle fighters, 6 Hawk fighters, 20 Falcon fighters, and 5 Typhoon Shuttles.
Additional Information
Stats
Length: 200m
Complexity: C10
Comm/Sensor: 13+11
Control Stations: 20
Workstations: 160
Number of Cabins: 24 Luxury, 300 Cabins
Crew: 235 (Command 20, Techs 160, Gunners 51, Medics 4, Others to max)
Other Systems: Artificial Gravity,
| | | | | | | | | | | | | |
| --- | --- | --- | --- | --- | --- | --- | --- | --- | --- | --- | --- | --- |
| TL | Spacecraft | dST/HP | Hnd/SR | HT | Move | LWt | Load | SM | Occ | dDR | Range | Cost |
| 10 | Valor | 300 | -2/5 | 14 | 1G/30mps | 100k | 484 | 12 | 235 | 100 | 1 | 10.87B |
Hull
Front

Nanocomposite Armor (dDR 100).
Multipurpose Array
Habitat (12 Luxury Cabins (48) and 150 Cabins (300) with total life support, 20-bed clinic sickbay (20), 4 Briefing Rooms (4), 10 nanofactory-minifacs at $100k/hr (20), 10 offices (10), 10 Sciene! Labs (10), 1 Large Science! Lab (20), Gym (2), Large Ops Center (10), 20 Cells (20), Rec Room (2), Lounge (2), Steerage 242)
Hangar Bay (Capacity 3k, launch rate 500)
Hangar Bay (Capacity 3k, launch rate 500)
Secondary Weapon Battery (4x 48cm Missile Turrets 50rnds/each, 6x 24cm Railgun 500 rnds/each)

Center

Nanocomposite Armor (dDR 100).
Habitat (12 Luxury Cabins (48) and 150 Cabins (300) with total life support, 20-bed clinic sickbay (20), 4 Briefing Rooms (4), 10 nanofactory-minifacs at $100k/hr (20), 10 offices (10), 10 Sciene! Labs (10), 1 Large Science! Lab (20), Gym (2), Large Ops Center (10), 20 Cells (20), Rec Room (2), Lounge (2), Steerage 242)
Hangar Bay (Capacity 3k, launch rate 500)
Hangar Bay (Capacity 3k, launch rate 500)
Main Weapon Battery (1 Particle 30GJ, 6dx10)
Secondary Weapon Battery (4x 48cm Missile Turrets 50rnds/each, 6x 24cm Railgun 500 rnds/each)
Control Room (core)

Rear

Nanocomposite Armor (dDR 100).
Fuel Tank (5k)
Fusion Torch Reaction Engines (gives 0.5G acceleration, fuel tank of hydrogen gives a delta-V of 15 mps)
Fusion Torch Reaction Engines (gives 0.5G acceleration, fuel tank of hydrogen gives a delta-V of 15 mps)
Stardrive Engine (

FTL

-1)
Tertiary Weapon Battery (12x 40cm Missile Turrets 30rnds/each, 18x 10cm Rapid Fire Railgun 1500 rnds/each
Nuclear Fusion Power Plant (2 power points, core)