Stars Edge Redux
Typhoon Shuttle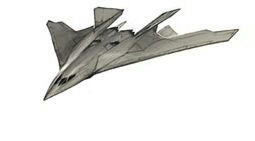 Classification: Shuttle (SH)
Design Date: 2XXX
Date of Original Manufacture: 2XXX
Passengers: 20
Cargo: 6000 cubic feet/120 k lbs.
Attributes
Control Response (Ag): 0
Sensors (per): 1
Frame (Str): 3
Multi-Task Systems (Act): 0
Weapon Systems (Ref): 0
Movement
Speed:
Acceleration: E (3/3)
Structure
Weapons
2 turreted Particle Cannons (L)
This sleek vessel has a short neck that flows back into a pair of wide wings that trail along the sides until it reaches dual engines mounted in the rear. The wings also mount several engine nozzles pounted downwards to act as VTOL assists. These mount minimal weaponry with dual particle turrets, one underslung on each wing. It can carry cargo loads or crew up to a couple of tons at a time.
Stats (Survey Version)
Length: 30m
Complexity: C7
Comm/Sensor: 6
Control Stations: 3
Workstations: 1
Number of Cabins: 0
Crew: 3-8 (Command 3, Techs 1, Gunners 0, Medics 0, Others to max)
Other Systems: Emergency Ejection, Winged
| | | | | | | | | | | | | |
| --- | --- | --- | --- | --- | --- | --- | --- | --- | --- | --- | --- | --- |
| TL | Spacecraft | dST/HP | Hnd/SR | HT | Move | LWt | Load | SM | Occ | dDR | Range | Cost |
| 10 | Typhoon | 50 | -1/5 | 14 | 3G/22.5-37.5MPS | 300 | ~31t | 7 | 8 | 7 | 0 | 20.13M |
Hull
Front

Advanced metallic laminate Armor (dDR 7).
Control Room
Passenger Seating (Max 20)
Habitat (Science! Lab)/Cargo Hold (15t)
Habitat (Office, 1-bed Automed Sickbay)
External Clamp
Habitat (Minifac workroom, storage, core)

Center

Advanced metallic laminate Armor (dDR 7).
Fuel Tank (15t)/Cargo Hold (15t)/Hangar Bay
Fuel Tank (15t)/Cargo Hold (15t)/Hangar Bay
Fuel Tank (15t)
Fuel Tank (15t)
Medium Weapon battery (2x 24cm Missile Launcher with 10 missiles, 1x 12cm RF railgun with 100 rounds)

Rear

Advanced metallic laminate Armor (dDR 7).
Engine Room
Fuel Tank (15t)
Ram-Rocket High Thrust Fusion Torch Reaction Engine (1G/each, 7.5mps/each tank)
Ram-Rocket High Thrust Fusion Torch Reaction Engine (1G/each, 7.5mps/each tank)
Ram-Rocket High Thrust Fusion Torch Reaction Engine (1G/each, 7.5mps/each tank)
Nuclear Fusion Power Plant (2 power points, core)